Terrell Owens sunglasses couldn't hide his tears during his post game press conference. After being the first NFC #1 seed to loss at home in the Divisional Round, Terrell Owens
wept like a little schoolgirl
in defense of his quarterback, Tony Romo.
But where do TO's "tears of shame" rank on the scale of crying in professional sports? As Tom Hanks character Jimmy Dugan once said in the movie
A League of Their Own
, "
There's no crying in baseball
." Jimmy would not be too pleased with these tear flowing individuals.
5.
Adam Morrison
- After losing to UCLA in the 2006 Sweet Sixteen, Morrison openly cried on the Oakland Colisuem's floor with 2 seconds left on the clock. Originally, I thought he was crying because he cared so much about the game. Turns out he realized his career had just peaked.
4.
Mark Messier
- Mess was a mess when it came time to have his
number 11 sweater retired
at Madison Square Garden in January of 2006. In what was supposed to be a quick ceremony before the game turned out to be a 77 minute celebration filled with more cheers and tears than an episode of Dr. Phil.
3.
Wayne Gretzky
- The Great One shed a few tears during his 1988 press conference in which he announced that he had been traded to the Los Angeles Kings. Later, it was reported that Gretzky was crying not because he would miss Edmonton, but because it was then that he realized he was a hockey player.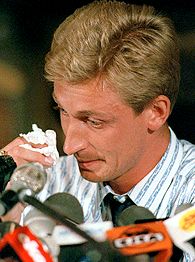 2.
Kobe Cryant
- Fans saw Kobe cry at his infamous press conference with his wife after being found innocent of raping a girl in Colorado. Fans got to see the softer, compassionate side of Bryant as he admitted his mistakes and begged for forgiveness. But what he really was crying about was the sight of the receipt for a $4 million purple diamond ring to his wife in order for her to forgive him. If thats how things work, someone tell Jim Dolan to mail $4 million to all Knicks fans for enduring the Isiah Thomas Era.
1.
Dick Vermeil
- When is Dick Vermeil not crying? When he gives routine pregame speeches? Check. When he is giving victory speeches? Check. When he retired from coaching on New Year's Day 2006? Check. When he realized Kurt Warner was his trusted quarterback. Check.