As a New York Giant fan, I can safely say I suffered 12 heart attacks and 1 stroke in the 4Th quarter of their 23-20 upset win over Green Bay in the NFC Championship game. But thanks to a
47 yard field goal
in OT by Lawrence Third Tynes a Charm and no turnovers for a third straight postseason game by Super Mann II, the Giants are headed to their 4Th Super Bowl in team history.
The early line on Super Bowl XLII has Big Blue as a
12 point underdog
. But as long as every "expert" continues to pick against the Fighting Coughlins, they may just have a shot to pull an upset for the ages. Especially since they have become America's Team. Imagine a New York sports franchise as America's Team. Quick, name
the last New York contender that the nation actually rooted for? The
'69 Jets
?
The '69 Mets
?
So how does the Giants staff go about game planning to pull an upset over the 18-0 Patriots? Simple. They take my advice on my "5 steps to beat the Patriots" that I am about to give. (PS - since my team is in the Super Bowl, I am actually taking this column seriously for a change and providing knowledgeable football insight for the Giants. Mr. Mara and Mr. Tisch, please send Tom Coughlin's game check to my house this week. Thanks)
1.
Pressure Tom Brady
- Brady has been hobbling around NYC this week in a
walking boot
. If the Giants front 4 can knock him down, hurry him, or even sack him without having to blitz on 1st and 2ND downs, this will help the injured and old secondary to not have to cover the receivers for as long. If Strahan, Osi, Tuck, and Co. can force Brady to move out of the pocket they will have a chance to bring him down since he self describes himself as "slower than molasses". Using defensive coordinator Steve Spagnolo's cleverly designed blitz schemes on 3rd and long situations will also hurry Brady's decision making in the pocket. The Giants don't necessarily even need to sack Brady once. They never got to Brett Favre. However, their well timed blitz packages confused him enough and also took away his underneath passes. Brady loves to throw short to Kevin Faulk and set up screens to Wes Welker.
2.
Keep the Ground Game Moving
- The Giants need to establish a running ga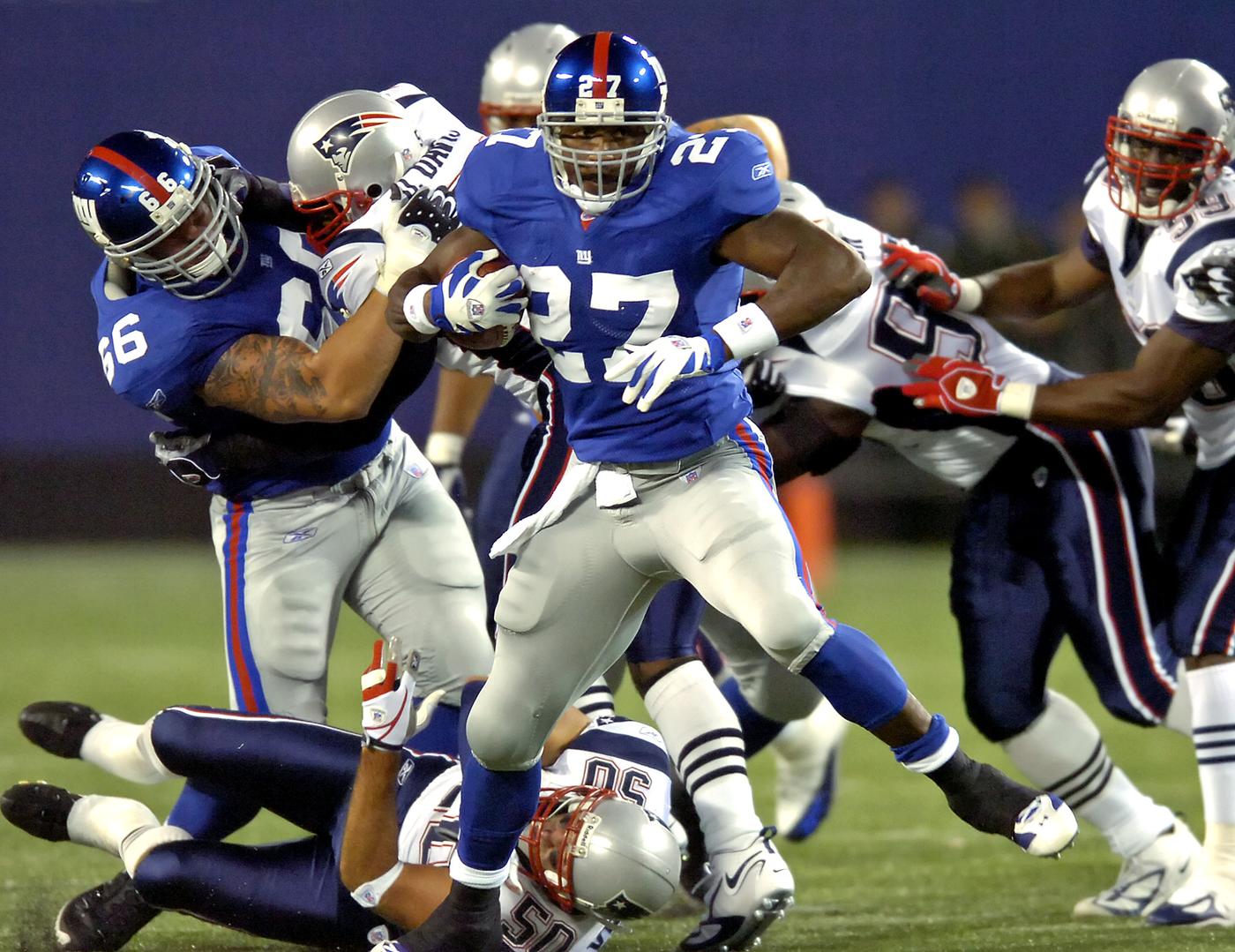 me just like they have done all postseason. This will keep their defense on the sidelines resting but more importantly keep the juggernaut Patriots offense off the field. They need to have a similar approach like they did against the Packers where they ran the ball 39 times and passed 40. Handing the ball off to a bruising back like Brandon Jacobs in the first half could slow down and tire out a aging Patriots defense just in time for the second half where rookie Ahmad Bradshaw's elusive, cut back style can lead to long runs.
3.
Win the Special Teams Battle
- This game will
not
be a defensive, field position battle. However, the only way the Giants have a chance is to keep the score as low as possible because they can't afford to get into a shootout with Brady and Company. With that being said, Giants KR Domenik Hixon, P Jeff Feagles, and K Lawrence "His Tynes to Shine" (OK, i promise that was the last one) will all play a key role. The Giants need long kick returns from Hixon to give Manning a short field to work with. Pinning the Patriots deep in their own territory is Feagles expertise and Tynes needs to not be 3/5 on field goal attempts this week. Not only does he need to be perfect, but the Giants do not even want him attempting 1 field goal kick this week. They need TD's.
4.
Blanket Moss
- The Giants have been using players fresh off the practice squad this season in their secondary. They need whoever is suiting up this week to double cover Moss and keep him quiet. Playing a Cover 2 will not get the job done. Neither will one on one with Moss. The Giants DB's need to jam Moss off the line or he will be run deep posts and stop and go's all night long.
5.
Pray
- The Giants need to pray to the football gods that every break go their way. Whether i
t be a key 3rd down penalty on the Patriots to keep a Giant drive alive or Brady throwing an unheard of 4 picks. The Giants have to hope for some benefits of the whistle in their favor a time or two. If all the breaks go their way, the Giants may have a slight chance in upsetting the Patriots. Either that or they can pray the Patriots team bus gets lost on the way to the game.