On a June night, once a year, dozens of underclassmen make a
mistake. And I'm not talking about drinking one too many or not studying enough for a Final.
On that same June night, tens of underclassmen realize their dream and quickly become millionaires.
But like everything else in life, things work out for some people and not for others. For every one star that meets their lifelong goal, there are dozens of others that see their hopes, dreams, and hardwork crushed in a 4 hour period simply known as the NBA Draft.
Every year we see the same pattern where too many underclassmen declare for the NBA Draft. They are filled with the hype their agents put in their ears and they only see dollar signs in front of them. These kids basketball careers are over before their very eyes as team after team decides to pass on them.
Since there are only two rounds in the NBA Draft, that means only 60 players, collegiate seniors and underclassmen, high school players, and international phenoms can be drafted. A little simple math tells you that there will be dozens of talented players, if not more, that will be umeployed and will have left school early without a degree.
On the other hand, leaving school early is the only thing some players can do. Take Greg Oden's scenario last year. He was a lock to be the number one pick after his freshman year. Why would he come back to Ohio State for another year?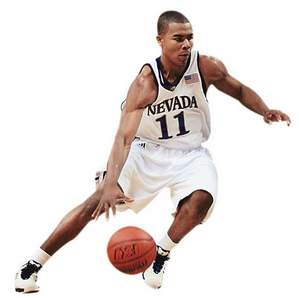 But for every Oden there is Ramon Sessions. Sessions left Nevada after his Junior year to be the 56th pick overall. He was 4 picks away from not getting drafted at all. He currently is averaging 0.0 points per game for the Milwaukee Bucks.
As a diehard college hoops fan, it would fun to see players have to stay all four years. Now, I know that is never going to happen nor should it, but the quality of play would rise a few notches. That theory got me thinking of all of the underclassmen who have left early to declare or play in the NBA. What would the college game look like this year if players like Kevin Durant and Marvin Williams were still playing?
Let's look at what some of the teams would look like in 2008 if no players were able to leave before their senior season.
Florida Gators (Current 2008 Ranking: 22)

Potential 2007-08 Starting Line-up: PG Taureen Green, SG Nick Calathes SF Corey Brewer, PF Joakim Noah, and C Al Horford.
Texas Longhorns (Current 2008 Ranking: 12)
Potential 2007-08 Starting Line-Up: PG Daniel Gibson, SG CJ Miles, SF Kevin Durant, PF LaMarcus Aldridge, C Connor Atchley
Bench:
AJ Abrams, DJ Augustin, and Damion James
North Carolina Tar Heels (Current 2008 Ranking: 3)
Potential 2007-08 Starting Line-Up: PG Ty Lawson, SG JR Smith, SF Marvin Williams, PF Brandan Wright, C Tyler Hansbrough
Bench: Wayne Ellington

Connecticut Huskies (Current 2008 Ranking: 19)
Potential 2007-08 Starting Line-Up: PG AJ Price, SG Jerome Dyson, SF Rudy Gay, PF Andrew Bynum, C Hasheem Thabeet
Bench:
Jeff Adrien, Doug Wiggins
Southern California Trojans (Current 2008 Ranking: Unranked)
Potential 2007-08 Starting Line-Up: PG OJ Mayo, SG Gabe Pruitt, SF Nick Young, PF Taj Gibson, C Robert Swift
Bench:
Daniel Hackett, Davon Jefferson
Ohio State Buckeyes (Current 2008 Ranking: Unranked)
Potential 2007-08 Starting Line-Up: PG Mike Conley Jr, SG Daequan Cook, SF David Lighty, PF Kosta Koufos, C Greg Oden
UCLA Bruins (Current 2008 Ranking: 4)
Potential 2007-08 Starting Line-Up: PG Jordan Farmar, G Darren Collison, SG Aaron Afflalo, PF Luc Richard Mbah a Moute, C Kevin Love
Bench:
Josh Shipp, Lorenzo Mata-Real

Oklahoma State Cowboys (Current 2008 Ranking: Unranked)
Potential 2007-08 Starting Line-Up: PG JamesOn Curry, SG James Anderson, SF Gerald Green, PF Ibrahima Thomas, C Marcus Dove
Washington Huskies (Current 2008 Ranking: Unranked)
Potential 2007-08 Starting Line-Up: PG Venoy Overton, SG Ryan Appleby SF Martell Webster, PF Jon Brockman, C Spencer Hawes
Arizona Wildcats (Current 2008 Ranking: Unranked)
Potential 2007-08 Starting Line-Up: G Jerryd Bayless, G Marcus Williams, G Jawaan McCellan, F Chase Budinger, F Jordan Hill
Memphis Tigers (Current 2008 Ranking: 1)
Potential 2007-08 Starting Line-Up: PG Derrick Rose, SG Chris Douglas-Roberts, SF Shawne Williams, PF Robert Dozier, C Joey Dorsey
Duke Blue Devils (Current 2008 Ranking: 2)
Potential 2007-08 Starting Line-Up: PG Shaun Livingston, SG DeMarcus Nelson, SF Gerald Henderson, PF Kyle Singler , C Josh McRoberts
Bench:
Greg Paulus, Jon Scheyer
Kentucky Wildcats (Current 2008 Ranking: Unranked)
Potential 2007-08 Starting Line-Up: PG Rajon Rondo, SG Jodie Meeks, SF Derrick Jasper, PF Patrick Patterson, C Randolph Morris
Bench:
Ramel Bradley, Joe Crawford

Georgia Tech Yellow Jackets (Current 2008 Ranking: Unranked)
Potential 2007-08 Starting Line-Up: PG Javaris Crittenton SG Anthony Morrow SF Thaddeus Young, PF Jeremis Smith C Dwight Howard