In one more unexpected turn in Bobby Knight's coaching career, he is abruptly done.
Knight resigned Monday as head basketball coach at Texas Tech. He leaves with a record 902 victories. His son Pat will coach the team for the remainder of the season.
In a career marked with ups and downs, this is just another chapter in the Robert Montgomery Knight story. This one, however, leaves a bad taste in the mouth of most.
Knight quit on his team in the middle of Big 12 Conference play. His Red Raiders are 12-8 (3-3) and firmly on the Bubble. They have an RPI of 54, which may leave them on the outside looking in come March. But thanks to Knight, they will have to get used to a new coach's style in the middle of their season, when every game counts more than the last.
Knight said he "quit on his own terms." Tell that to the Red Raider players who have poured there blood and sweat onto that court for him this season. And tell that to the seniors, who know have to get used to Pat Knight's coaching style in their last couple career games. I'm sure leading scorer Martin Zeno is not happy nor are the other 3 seniors.
And Knight just signed a three year extension in Septemeber. He lasted just five months.
This should not come as a surprise to those who know Knight. The General has always done things his way though. Or he says he has. If he really had his way, he would still be at Indiana looking to collect his 1,100 career victory, not just surpassing his 900th. He wouldn't be in remote location of Lubbock, Texas, where they are more known for their football team than basketball team. He would be in Indiana, where they are steeped in college basketball history. At this point, Knight should be in Assembly Hall patrolling the Hoosiers sidelines while his team plays on Bobby Knight Court.
But no, Bobby Knight does things on his terms. He chokes former players, throws chairs across the court in a tirade, and quits on his team mid year. Had ne not done any of those things, he would be a god in the Midwest. He could run for Senator of Indiana and win in a landslide. They pray to God and the General in churches in Indiana. He is revered as much as John Wooden in those parts. He is the Dean Smith of the Big Ten, perhaps even better.
He is the architect of the motion offense, led the USA to a Gold Medal, an NIT Champion, and the last coach to lead a team to an undefeated regular season and capture a National Championship (1976 Indiana Hoosiers) in the same season. But ask Isiah and Stev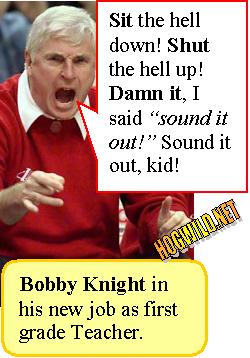 e Alford about him and they will swear by him. He has a 98% graduation rate, which is remarkable in college athletics these days. Unfortunatley Knight will always be known for his stubborness, choking a player, and tossing a chair across the court. Not to mention his many tirades and unforgetable post game quotes.
Like Knight once said, "All of us learn to write in the second grade. Most of us go on to greater things."
Perhaps Knight is moving on to greater things.
Highlights from Bobby Knight's career:
1972 - Tells IU President that he demands to become head basketball coach at Indiana or "I will choke you so hard you will cry."
1976 - During a postgame interview with WRTV's John Sampson, Knight repeatedly tells him to "shove the mike up his ass" when asked about losing to rival Illinios.
1987 - After Keith Smart hits the game winning basket to beat Syracuse in the National Championship, Knight throws Smart across the court.
1993 - To keep his graduation rate close to perfect, Knight sends a memo to all IU professors telling them to "pass my bone headed players or I will make sure you don't teach again. ever. anywhere."
1998 - Tells ESPN's Michelle Tafoya to never interview him after the first half ends because "he comes off meaning looking on national tv."
2007 - After a shooting incident involving a neighbor in Lubbock, Knight tells police "I've mellowed over the years. If this was 1985 I would have put a bullet in his groin and one between his eyes.