The Kansas Jayhawks won the National Championship exactly 43 days ago. The deadline for underclassmen to declare for the NBA Draft was 23 days ago. The Draft itself is still over 1 month away. Schools don't even start practicing for the season for another six months. And you know what all this tells me? That it's never to early to start ranking the teams for the upcoming 2008-09 college basketball season.
(Since the June 16th deadline for players that have not hired an agent to withdraw and come back to school has not passed yet, these picks will be made under the premise that all players who have declared are going to stay in the draft.)

All scouting notes and numbers courtesy of
Rivals.com
top 150.

1.
Connecticut
With 7'3 Center Hasheem Thabeet returning to UCONN, the Huskies are bringing back all 5 starters from a 24 win team. The core of this team, AJ Price, Jeff Adrien, Thabeet, and Jerome Dyson will be playing there third year together until the tutelage of Coach Jim Calhoun. Don't be fooled by the first round exit of the Huskies in the NCAA Tournament last year as this team with have the chemistry and the experience (not to mention be tested heavily in a loaded Big East) to bring a National Title back to Storrs. UCONN will also be getting the 13th and 14th ranked recruits in F Ater Majok and G Kemba Walker.
Key to their season: Will the Huskies leading scorer, AJ Price, be fully healthy after tearing his ACL against USD in the NCAA Tournament ?
2.
North Carolina
Reigning AP Player of the Year Tyler Hansbrough is back for his Senior season. That in itself is enough to put the Tar Heels in the conversation to win it all. As of right now, PG Ty
Lawson, SG Wayne Ellington, and SF Danny Green have declared for the draft. Look for Danny Green to return to Chapel Hill though. The Tar Heels bring in 3 highly touted recruits: 5 star recruit F Ed Davis (15th in class of 2008) and two 4 star recruits: PG Larry Drew and C Tyler Zeller (33rd in class of 2008).
Key to their season: Can anyone replace Lawson? When he was injured last season, the team struggled as it had no ball distributor and lost some of its transition game.
3.
Pittsburgh
Pittsburgh brings back its top 3 players -PG Lavance Fields, SF Sam Young and C DeJuan Blair. This may be the best trio of any team in the country. Add in the fact that Pitt owns one of the best home court advantages in college hoops. They are 55-1 against non conference opponents since the Peterson Events Center opened. The are tournament tested (winning the Big East title last season) and play a hard nosed style of defense that wins championships.
Key to their season: Replacing departed senior guards Ronald Ramon and Keith Benjamin with solid role players that don't turn the ball over. Gilbert Brown may be expected to fill that role.
4.
Oklahoma
Besides Thabeet and Hansbrough, the other stellar big man to surprisingly return to school was OU's super freshman Blake Griffin. The only major loss is Longar Longar however his departure will allow Jeff Capel's Sooners to run a bit more. Add in 5 star recruit Willie Warren (10th in class of 2008) with Griffin and you have a star studded 1-2 inside/outside combo. Warren is a power guard who is very good with the ball. The Sooners also return their starting back court in junior Tony Crocker (11.3 pts, 3.8 rebs) and senior Austin Johnson (8.3 pts, 2.7 assists).
Key to their season: Along with keeping Griffin healthy for the entire season, watch how the inside outside game between Griffin and Warren materializes. This combo may the best in the country.
5.
Notre Dame
The Irish return the Big East Player of the Year and leading scorer Senior F Luke Harongody, Senior SG Kyle McAlarny who averaged 15.1 and 108 made 3's, and Big East assist leader Junior PG Tory Jackson. The Irish will have a target on their back this season as they finished 2nd in the Big East last season. Urgency will be key for the Irish as they do not have 1 player in Rivals top 150 recruiting class for 2008.
Key to their season: Can the Irish exceed as the hunted this season unlike past years when they have been the huntee?
6.
Purdue
The Baby Boilers surprised the country last season finishing second in the Big Ten with three freshman. Assuming the three freshman - G/F Robbie Hummel, G/F Scott Martin, and leading scorer guard E'Twuan Moore - each improve this season, the Boilermakers should win a weak Big Ten and get a nice seed come March.
Key to their season: With more expectations this year, can the youngsters perform with a target on their backs? Can raw big man JaJuan Johnson improve enough to anchor the front court?
7.
Wake Forest
WF finished below .500 in the ACC last season but this year they may be UNC's top challenger. With Rival.com's top ranked recruiting class, which features three five-star recruits – 6-8 forward Al-Farouq Aminu (7th overall ) and 6-11 centers Ty Walker (17th overall) and Tony Woods (20th overall), the Deamon Deacons's sky is the limit. The Deacs also bring back their top 2 scorers in Sophomores James Johnson and Jeff Teague.
Key to their season: Is a starting five of 3 freshman and 2 sophomores too young to bring a national title back to Winston-Salem?
8.
Louisville
The Cardinals are the Big East's fourth legitimate Final Four candidate. They lost
Derrick Caracter but Rick Pitino wanted him gone hence some addition by subtraction. They also lost leading scorer and team leader David Padgett. However, Earl Clark and senior wing man Terrance Williams are back as is Juan Palacios, Jerry Smith and Edgar Sosa. Louisville also will be bringing in 6'9 F Samardo Samuels (9th overall) who is said to be an automatic double double guy as well as 6'10 F shot blocker Terrence Jennings (18th overall).
Key to their season: The Cardinals need to be more consistent than last season. Who will emerge as the team leader? Can Sosa be a true point guard and distribute the basketball better?
9.
Florida
The Gators suffered last season from lack of expereince. With another year under Billy Donovan, this team such be the class of the SEC. Co-SEC Rookie of the Year Nick Calathes will be in the running for Conference Player of the Year as he averaged 15.3 pts last season. Marresse Speights has declared for the Draft but no one knows if he will stay in. Regardless the Gators are reloading with 26th and 27th ranked recruits F Eloy Vargas and C Kenny Kadji.
Key to their season: Can anyone replace Speights inside if he stays in the Draft?
10.
Duke
Duke lost SG DeMarcus Nelson but bring back the entire rest of the team that finished #16 in the AP poll. Sophomore Taylor King has transferred but he wasn't part of the rotation. Kyle Singler and Gerald Henderson look to be the go to scoring options. Look for five star recruit G Elliot Williams (a slashing lefty and 16th overall) to contribute right away.
Key to their season: Duke still lacks an inside presence and depth. Will the 7 man rotation wear out the Dukies by the end of the season? Will no legit big man hurt them in a conference full of more than capable centers.
11.
UCLA
UCLA will be somewhat of a sleeper as Kevin Love, Luc Richard Mah a Moute, Russell Westbrook, and Josh Shipp leave for the NBA. However, Shipp has not hired an agent and he may be back in Westwood. Second leading scorer G Darren Collison will be back. Ben Howland has a proven defensive mind that has helped guide UCLA to the past 3 Final Fours. Also factor in five star recruit and incoming freshman Jrue Holiday (2nd overall) who is this years poor mans version of Derrick Rose.
Key to their season: Can Collison handle the scoring pressure and will the younger guys step up?
12.
Michigan State
State had an up and down 2007-08 season and will need more consistency this year. Tom Izzo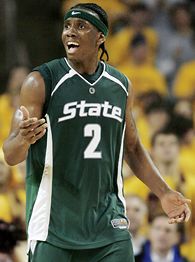 has brought in five star recruit power forward Delvon Roe (24th overall) to bang down low under th boards with Senior Goran Sutan. Sparty lost one key player, G Drew Nietzel but has speedy Kalim Lucas to fill his shoes. Raymar Morgan led the team in scoring last season and could be the Big Ten Player of the Year in 2008.
Key to their season: The Spartans were soft down low so adding Roe will add firepower. Assuming they make the tournament field, can MSU rise to the occasion much like many of Tom Izzo's proir team have?
13.
UNLV
In case you have missed it, the Runnin' Rebels have won the Mountain West the past two seasons. In 2007, Lon Kruger's bunch made it to the Sweet Sixteen. Last season they made it to the second round of the Tournament. UNLV has 3 returning starters (all of whom are seniors)from a team that won 27 games. Leading scorer G Wink Adams leads the team. Add redshirt freshman center Beas Hamga, a 7-foot former five-star prospect, and Memphis transfer Tre'Von Willis, and you have the makings of a serious sleeper.
Key to their season: How well will Hamga and Willis fit in? Will they have enough quality out of conference wins and how strong will the Mountain West be?
14.
Gonzaga
PG Jeremy Pargo would be a major loss if he indeeds stays in the draft. The Zags however will still be the class of the West Coast Conference because they will be returning 3 of their top 4 scorers icluding G Matt Bouldin and C Josh Heytvelt. The Bulldogs seem to always play a tough out of conference schedule that mentally toughens them. Former stud recruit Austin Daye will look to improve on his 10.5 ppg 4.7 rebound freshman campaign.
Key to their season: Will they have Pargo back? Can Heytvelt keep his head on straight this season? The Zags season will largely depend on the improvement of Daye.
15.
Tennessee
The bad news for the Volunteers is that they lose their top two scorers in Chris
Lofton and JuJuan Smith. The good news is that F Tyler Smith is returning to Knoxville along with junior F Wayne Chism. More good news for the Vols: 5 star recruit SG Scotty Hopson (5th overall) fled the state of Kentucky in order to suit up for Bruce Pearl in Volunteer orange. The Vols also have two 4 star recruits: F Renaldo Woolridge (58th overall) and C Phillip Jurick (68th overall).
Key to their season: Who will replace the 30 ppg they lost in Lofton and J. Smith? Will they be able to run a high transition game with the new players coming in?
16.
Memphis
The almost champions lost all 5 of its starting lineup to the NBA or graduation this year. The best players back from the national runners up are juniors G Doneal mack and F Shawn Taggert. Having national recongnition and being able to dominate a weak Conference USA will help keep Memphis in the hunt. 5 Star recruit G Tyreke Evans (6th overall) will help ease the pain of losing PG Derrick Rose as he is the 3rd ranked PG in the class.
Key to their season: How long will it take John Calipari to fully learn the strenghts and weaknesses of his new players enough to consistently put out the best lineup?
17.
Georgetown
With glue guy Patrick Ewing Jr, PG Jonathan Wallace, and 7'3 C Roy Hibbert all graduating not to mention junior PG Jeremiah Rivers transferring, Coach John Thompson III has his hands full in DC. Enter 3 year started DaJuan Summers and Jessie Sapp. They will have more control this season in the Princeton offense. Five star recruit Greg Monroe (8th overall) will look to fill Hibbert's shoes inside immediately.
Key to their season: Who will be the point guard and run the team? Who will be the emtional leader? Will they lack chemistry with all of the changes?
18.
USC
USC lost two of its best players in freshmen OJ Mayo and Davon Jefferson. The two were also a distraction as Tim Floyd will look to team unity instad of individual one on one player. It starts with vertern leadership in juniors F Taj Gibson and G Daniel Hackett. Incoming stud freshman Demar DeRozan (3rd overall) is the classes #1 ranked shooting guard. He is an extremely atheltic scorer and at 6'5 posseses great size.
Key to their season: Tim Floyd needs to get his Trojans to play more as a cohesive unit. USC's DeRozan should be right up their with Arizona's Brandon Jennings and UCLA Jrue Holiday for Conference Rookie of the Year.
19.
Kansas
The defending nation champions lost all 5 of their starters. The only player that was a significant piece of the championship that is coming back is junior G Sherron Collins who averaged 9.3ppg. The Jayhawks do bring in the 8th best recruiting class including two 4 star recruits: brothers Marcus and Markieff Morris (29th and 50th overall) as well as a verbal commitment from another 4 star recruit PG Tyshawn Taylor (77th overall). Interestingly all 3 recruits are from NJ.
Key to their season: Will Cole Aldrich improve his game to take pressure off the guards? Will they freshman step in and contribute immediately.
20.
Marquette
3 of the Golden Eagles top 5 scorers return including dynamic PG Dominic James and F Lazar Hayward. Marquette reached the Finals of the Big East Tournament and finished the year ranked 21. Their biggest loss is losing coach Tom Crean to Indiana. Another giant loss is Jerel McNeal who has declared early for the Draft but not hired an agent. McNeal was the leading scorer last season as well as one of the best one on one defenders in the country.
Key to their season: Can new coach Buzz Williams keep the Golden Eagles in the upper echelon of a loaded Big East? Because of the coaching change, Marquette only managed to grab one 3 star recruit and one two star recruit.
21.
Ohio State
7'0 C Kosta Koufos went one and done for the Buckeyes. They also loose their leader and top scorer G Jamar Butler. Not need to panic though in Columbus as Thad Matta went out and got himself the top recruit in the country: 7'1, 265 C BJ Mullens. It is said he reminds people of Bill Walton and could be a potential Dirk Notwitzki type player in the Association. Matta also landed 5 star recruit G William Buford (19th overall). Junior G/F David Lighty (9.0ppg) will be a key third option for the Buckeyes.
Key to their season: While losing Koufos and Othello Hunter down low, can Mullens resurrect the paint for the Buckeyes? How long will the team be lost without leader Jamar Butler and who will step into that role?
22.
Syracuse
4 of their starting 5 are coming including G Eric Devendorf who was injured all of last season. Their major loss is F Donte Green who averaged 17.7 ppg. The team will lean on its veteran leadership in Devendorf and Junior F Paul Harris. The Cuse bring in F Mookie Jones (35th overall), a combo forward with a developing skill game.
Key to their season: Can they eliminate the inconsistencies that plagued them last season? How much have the freshman improved from last season? Can Scoop Jardine keep his head on straight all season?
23.
Arizona State
ASU's back with their dynamic 1-2 scoring combo of senior F Jeff Pendergraph and sophomore James Harden (17.8 ppg). The Sun Devils had 21 wins last season and finished 5th in what many called the best conference a year ago. Sophomore G Ty Abbott brings back 9 ppg and junior Derek Glasser brings back 6 ppg. No one early departures or graduations has affected this team. On the other hand no star recruits have been brought in by Herb Sendek. However a rejuventated ASU program may may chomping at the bit when the season starts as it was the last team left out of the NCAA tournament. They will have revenge on their mind.
Key to their season: Having a stronger out of conference schedule with some key wins that will force the committee to not leave them out of teh Big Dance this season.
24.
Villanova
The Wildcats make a late season charge to make the tournament and advance to the Sw
eet Sixteen. Junior G Scottie Reynolds and fellow guards Corey Fisher and Corey Stokes lead a lethal outside threat. All seven of Nova's leading scorers return. While Nova is bringing everyone back they have yet to sign a top 150 recruit.
Key to their season: Where will the inside threat come from? This teams reminds me of Marquette last season with 3 dynamic outside shooters and slashers.
25.
Miami (FL)
Miami engineered a 10 game turn around last season and made the NCAA tournament for the first time since 2002. Four starters, including top scorer Jack McClinton, return. Two of the others are in the backcourt with McClinton—Lance Hurdle and James Dews—and the fourth, Dwayne Collins, has on occasion demonstrated the ability to be a force inside. Coach Frank Haith has replacements for departing seniors Anthony King and Raymond Hicks waiting, with Cryus McGowan, a transfer from Arkansas, and Julian Gamble, who sat out 2007-08 as a redshirt. Miami also landed 5 star recruit F Dequan Jones (23rd overall).
Key to their season: How will the replacements step in? Can the Hurricanes improve from last seson and hang with the UNC's and Duke's of the conference? Frank haith needs to land a top stud recruit in the state of Miami to help maintain Miami as a top 25 basketball school (Dequan Jones is from GA)
Others Considered:
Arizona
,
Wisconsin
,
West Virginia
,
Xavier
,
Kentucky
,
Davidson